NEWfit: Filling the Void for Baltimore City's Youth in School Sports
"Kids cannot be at the mercy of today's economic and political climate," says NEWfit™ Founder Kevin Anderson, a Baltimore City native who taught physical education and health for twelve years at Baltimore City schools before launching his organization in 2012.
"As a teacher, I saw there were no school-based sports opportunities for elementary and middle school kids, and I wanted to make sure they had access that included teachers, principals, staff, parents and our general community supporting vital sports engagement for the students," he explained.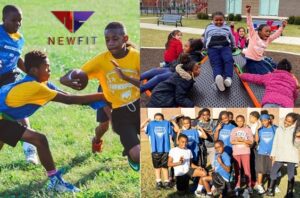 Of the 137 K-8 Baltimore City public schools , NEWfit™ has consistently provided  school-based sports programs covering 15 different sports for 80 of these schools. Of course, the Covid virus pandemic has put all school-based sports programs on hold until schools can ensure the health and safety for all students to return to classes and school sports activities, and NEWfit will be there when they do.
"These opportunities were few and far between for these kids when I taught PE and health," Mr. Anderson said, noting that the only real opportunities centered on basketball for middle school boys and even that was limited.  The tragedy of that was physical education was phased out and there were no opportunities for all kids to engage in wellness activities.
"I wanted to make sure that all of these kids had equal access to engage in the wellness opportunities that well-managed sports activities can provide," he continued.
All Attributed to the Development Self-Esteem
Healthy access to and participation in sports -- as a player, a cheerleader, spectator, staff or participants in general sports programs such as dance, playground tag and gymnastics, improves academic performance, accountability, behavior and interpersonal relationship, according to Mr. Anderson.
"This is all attributed to the development of self-esteem, self-confidence and development of values systems that are essential in these young lives," he said. "Accountability and behavior issues improve immensely in sports seasons, and students' academic performance gets better continuously throughout the year."
"Then game day is easy... it is the added value that involves teachers, principals, parents, the students and of course the players, coaches, staff and referees all working together for a carefully planned sports event," he declared.
"We Are All the Same!"
Kids embrace a healthy identity when they participate in sports that Kevin Anderson has seen and been part of first hand regardless of what sport or what level of involvement. "They can identify as a soccer player, basketball player, dancer, tag team player, cheerleader or any other athlete and say to themselves 'We Are All the Same!'" Mr. Anderson exclaimed, noting that their participation in sports inherently makes them feel equal as athletes.
A New and Evolving Normal
Today, kids everywhere have unparalleled challenges due to the Covid pandemic, relegated to staying home, learning through virtual connections, and unable to participate in any sort of school-based athletic competition. And when kids begin returning to campus, there will be a new normal that will be different from our pre-Covid lives.  But at what cost?
Mr. Anderson knows that equal opportunity sports participation will be essential for kids to most successfully benefit from and adapt to the new challenges of the evolving educational platform and the economic challenges associated with it.  For NEWfit™, sustainability is the issue.
"We are re-imagining how to service this community and keep and continuing developing equal sports opportunities in the schools," Mr. Anderson said.  Skyy2Win founder BJ Borden is committed to helping ensure NEWfit's continued development as the community weathers the Covid pandemic.
"Skyy2Win sees that NEWfit provides an irreplaceable and vital service for our kids and the enrichment it brings to the schools and our community," said Mr. Borden. "We are pleased to partner with NEWfit, and together we will offer a platform of strength and opportunity that will focus on the kids and partnerships within the community to ensure every child has equal opportunity to participate and grow with purpose and self-esteem."

---