NEW DATE: New Youth Basketball Referee Training Session Starts November 6!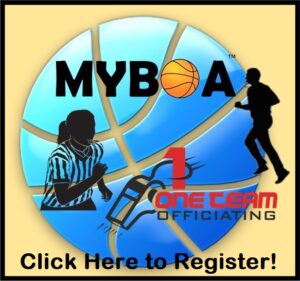 Skyy2Win will present a new youth basketball referee training session starting November 6 at the Mount View Middle School gymnasium.  Training will be provided by its Maryland Youth Basketball Officials Alliance (MYBOA™) which has trained over 400 youth basketball officials from ages 13 to adults since 2014, including officials who are certified for high school and college.
The class will be held in six, two-hour weekly sessions starting on Saturday, November 6, @ 12:00 - 2:00 PM at Mount View Middle School gymnasium in Marriottsville, MD.  General course details are highlighted on the Skyy2Win Basketball Referee Training webpage here: https://skyy2win.com/referee-training/. 
Registration will be available online here on the Skyy2Win website powered by its national partner, LeagueApps, through November 4.  Registration fee is $125.00 per applicant.  Only 20 applications will be accepted for this training session.  Registration will close by November 4 or when the class reaches capacity.

Upon certification and graduation, the referees will be referred to OneTeam Officiating for game assignments,  OneTeam Officiating, under the management of Omar Sabah, is a community partner of Skyy2Win and MYBOA™, and one of the area's major assigners of youth sports including Howard County, Baltimore City Neighborhood Basketball League (BNBL), Baltimore Therapeutic Basketball League,  Baltimore City Youth Football, and other area leagues and tournaments.  Certified graduates also will be referred to other referee assigners including CYO, and they may reach out to other leagues with credentialed certification.
"One of the unique qualities of our basketball referee training program is that we work very closely with each student to make sure they succeed in the course and are prepared for the assignments that await them," said Eric McLamb, MYBOA™ Founder & Director.  Not only do they develop the confidence in themselves to perform as professional basketball officials, but they are equipped to provide a special service for youth basketball that is not taught with most professional training programs." --  Skyy2Win